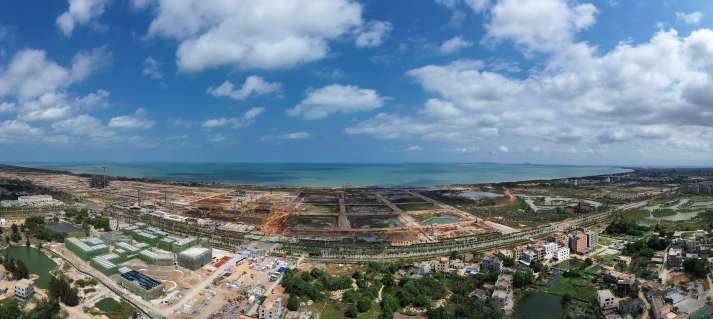 At the end of March, a new retail experience project of China Sinopharm Healthcare Industry Co. opened for business in the Yangpu Bonded Port Area in Hainan Province. Initiated at the end of last year, the complex consists of a duty-free shopping center dedicated to imported health products through e-commerce channels and exhibition and leisure facilities. By mid-2022, Sinopharm Healthcare will build more workshops, production lines and warehouses in the area, according to the company, a subsidiary of the pharmaceutical giant Sinopharm.
Sinopharm Healthcare's investment was inspired by preferential policies put in place for developing Hainan into a world-class free trade port (FTP). According to Wang Yaoqi, General Manager of the company, most of its raw materials are imported from abroad, and the products are sold in China and in Southeast Asian countries. With a production base in Hainan, the saved tariffs can reach up to 9 percent of the costs and the saving on logistics spending ranges between 15 and 20 percent, he said.
Hainan became a pilot free trade zone (FTZ) in April 2018. On June 1 last year, the Central Government released a master plan for building the province into a globally influential and high-level FTP by 2050. With an improving business environment and supporting policies, Hainan is attracting an increasing number of investors.
To further the development of the Hainan FTP and facilitate trade, 28 policies and measures will be rolled out, Vice Minister of Commerce Wang Shouwen said at a press conference on April 12. The measures include allowing certain regions to ease control on qualifications for and quantities of imports and exports such as crude oil, refined oil and sugar. Licensing requirements for mechanical and electrical imports will also be scrapped. The government will boost digital, technological and cultural trade, and improve supporting arrangements such as the import and export quality warning system.
According to Vice Minister of Finance Zou Jiayi, the ministry has formulated nine fiscal and taxation measures targeting the FTP and an additional three will soon be unveiled. Further efforts will bolster duty-free services in time for the First China International Consumer Products Expo to take place in Hainan in May.
"Hainan enjoys advantages brought by its natural resources and location. Through improving the business environment and seizing opportunities from the signing of the Regional Comprehensive Economic Partnership in late 2020, it is transforming from a mere tourism destination into a regional opening-up hub, which is essential to its long-term development," Chi Fulin, President of the China Institute of Reform and Development, told Beijing Review.
Robust growth
Since the establishment of its FTZ, Hainan has worked on shifting its major economic driving force from investment in real estate and infrastructure to a combination of investment and consumption, and opening up its market. Its paid-in foreign direct investment from over 80 countries and regions totaled $5.27 billion over the past three years, more than half of the capital inflow in the last three decades. In 2018-20, around 763,000 businesses were established in the province and 230,000 talented individuals moved to the area from other parts of the country.
In 2020, new overseas-funded enterprises reached 1,005 in Hainan, up 197.3 percent from the previous year. Over the past three years, many foreign companies like U.S. electric carmaker Tesla have settled in the province.
An additional reason Hainan has become a magnet for global investment is that it has the shortest negative list for foreign investment and the lowest corporate tax rate in China. The negative list for the FTP now has 27 items, compared with 30 and 33 items on the 2020 versions of the negative lists for FTZs and non-FTZ areas, respectively. Enterprises engaging in industries that are encouraged in Hainan enjoy a tax rate of 15 percent, whereas in other parts of China that number stands at 25 percent.
To accelerate the development of the FTP, central authorities has introduced additional supporting policies. On April 9, the central bank and three other government agencies jointly unveiled 33 measures to improve the convertibility of the renminbi, facilitate cross-border payments, and open up the banking and insurance sector in Hainan.
Hainan is turning itself into an international tourism and shopping center. Despite COVID-19, it received 65 million tourists from home and abroad in 2020, with the revenue from tourism reaching 86 billion yuan ($13.1 billion). According to the provincial government, the added value of tourism is expected to account for 12 percent of the provincial GDP in the 2021-25 period. The province plans to open 160 new domestic and international air routes, increase the number of accessible cities to 200 and improve the passenger throughput to 60 million over the next five years.
Starting from July 1, 2020, Hainan lifted the annual per-person tax-free shopping quota from 30,000 yuan ($4,580) to 100,000 yuan ($15,269). The number of categories of duty-free goods has also been expanded from 38 to 45, with electronic products such as mobile phones and laptops newly included. Data from the General Administration of Customs of China showed that the sales of offshore duty-free products from July 1 last year to April 6 this year totaled 34.7 billion yuan ($5.3 billion) in Hainan, up 244 percent year on year.
According to Shen Xiaoming, Secretary of the Hainan Provincial Committee of the Communist Party of China, the island's offshore duty-free sales are expected to exceed 60 billion yuan ($9.15 billion) this year, up from 30 billion yuan ($4.58 billion) last year, which also doubled from 15 billion yuan ($2.29 billion) in 2019. "Due to the global spread of COVID-19, many domestic consumers have chosen to purchase luxury goods and healthcare services in Hainan," he said.
Chi suggests Hainan cooperate with Hong Kong on developing industrial and supply chains for duty-free shopping to improve the quality of products and services.
Diverse pillars
As Hainan steps up its efforts on industrial transformation, a modern industrial system backed up by tourism, services, hi-tech and agricultural industries is taking shape, Shen said. The National Development and Reform Commission and the Ministry of Commerce issued a set of guidelines on April 8, specifying measures for easing market access in sectors including pharmaceuticals and health, aerospace and seed breeding on the island.
According to local government, the proportion of real estate investment in the GDP declined from 46 percent in 2017 to 21.9 percent in 2020, while the service industry contributed up to 95.8 percent of economic growth last year. The province has established 102 new educational institutions jointly with domestic and overseas partners including Harrow School from Britain, and built 49 high-quality medical institutions. More than 130 new types of medication have been authorized for use in the Boao Lecheng International Medical Tourism Pilot Zone.
Hainan has also developed deep-sea exploration and aerospace technologies, including the manned submersible Fendouzhe (Striver). The satellite launch center in Wenchang, a city in the northeast of the province, is the fourth of its kind in the country. The number of its hi-tech enterprises increased by 273 percent from three years ago, and the revenue of the Internet industry increased by 192 percent over the same period.
The role of agriculture and marine industries in the province have received an extra boost. The tropical climate and abundant natural resources of Hainan make it a key base for off-season seed breeding in China. It has also begun cultivating specifically introduced tropical fruit species in order to improve the competitiveness of its agriculture.
According to Chi, Hainan bears a potential for developing distinctive industries and enhancing the quality of service trade. It needs to invest more in value-added agriculture and educational and healthcare services.
Hainan can be more open, Zhao Jinping, a researcher with the Development Research Center of the State Council, said. He told Beijing Review that the province needs to improve its legal systems to ensure institutional innovation and widen opening up through further reducing tariffs, expanding access for foreign investment and facilitating cross-border service trade.